Signs & Banners
One of the biggest challenge is to preparing for an event; is developing an overall presence and that will stand out and say something about the event. Signs & Banners are so helpful for the event like Election Campaign, Fundraising, Conferences, Inaugurations, Prom Parties, Exhibitions, Birthday, Wedding Parties, Trade Shows, Community Gatherings, College Fairs, School Programs, Dance Programs, Dance School "Rangpravesh / Arangetram", Special Events, Obituary Viewings, Hospitals, Nursing Homes, Home Health Cares, Office, Club, Church and much more. We are offering Low Cost Sign Installation services.
Website Designing and Maintenance
We provide the Sliding Web Design, Content, Domain, Hosting and the Support. For the First year $500 - $650; Second and Subsequent years $150 Only. Our eye-catching professional website increases conversion rates of your business. Royal Printing, we help you to build a strong online presence and can target you to a better audience. We assured you to Right layout, Imagery, Typography and Color schemes to make your design pop . We are using latest GUI user friendly software for to build your website, by using latest tools and programs Firefox Developer, Photoshop, Panic Coda, Dreamweaver, Fireworks and HTML5, WordPress, cPanel etc. Our service is not limited in Website Designing, we are providing additional services like Website Redesign, Website Development, Mobile Apps Development, Domain Registration, E-commerce Website Design, Mobile Website Design, Ongoing Web Maintenance, Web Hosting, Domain Registration, SEO and Monitor malware & spyware. Our Search Engine Optimization (SEO) service department is dedicate to popup your website in Google(has over 200 ranking factors in their algorithm), Bing, Amazon or YouTub. Our optimized Website will make you happy and will ensured people can find your site with SEO compatibility. Our user friendly websites provide a better view on any display medias like Computer, Smart Phone Tablets, Mobile Display Devices etc.
Your Inspired Professional Sliding Website Design makes a change in your regular business as well as Ecommerce and Promotional Industry. Trust Royal Printing - competitive price with better services. Our Sliding Website Package Price are in the range of $500 to $650, price included "Sliding Website Design, Domain Name Registration, Web Hosting, Maintenance and SSL Certificate with One Year Guaranteed Services. This is a Bundle Offer - No other monthly service charges or additional charges - "One Time Payment No Headache". The second and subsequent years of services or to renew the services, you have to pay $150 for each year - No Additional Monthly Charges.
Website Designing Sample Links:
https://www.penaslandscaping.com/
https://www.sadormed.com/
https://www.goldenplushhc.com/
https://www.royalfingerprinting.com/
https://www.royalprinting123.com/
Business Essentials & Promotionals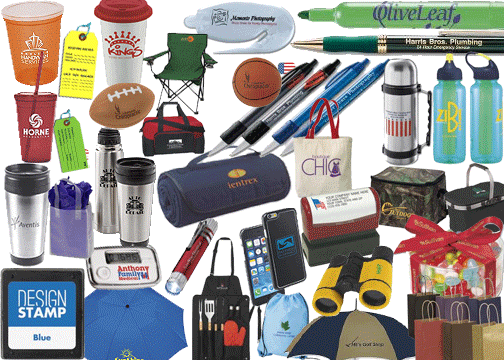 Just Click Here "You will have a New ROYAL PRINTING E-Commerce Window for Shopping". You can quickly and easily capture more marketing materials, productive items, business essentials and promotional marketing materials. Introducing the private-label e-store service that's far different and more robust than other vendor-provided e-commerce services. We made it easy for you to sell a breadth of products—including popular checks, forms, and holiday cards—and simple for your customers to buy them. Pick a template, choose the products you want to sell and set your ideal margin.
Vinyl/Flex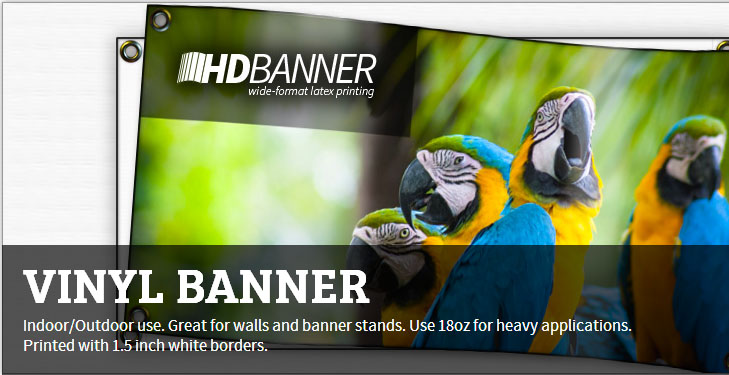 VINYL / FLEX BANNER:- Indoor/outdoor purpose can be used with same Day or 24/7 Production. Bulk Order Discount are limited up to 60% . We offer 13oz, 15oz, 16oz and 18oz thickness with Matt / Gloss single or Double Side printing. Our 15oz-18oz Banner material are suitable for the street banners and light pole banners. Corner Welding Plate, Hem and Grommets are Free; Rope and Pole Pockets are our low cost service. We can go upto 10FT width before seam, Options available are Corner Welding Plates and Grommets; Rope and Pole Pockets are our low cost services.
Poster - HDPE & Canvas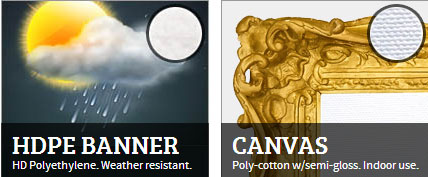 HDPE BANNER:
HD Polyethylene paper with single side printing, available option is Contour Cut, having 150 GmsText thickness. Maximum size 4'x 100' with High resolution printing 720 x 720. CANVAS BANNER: Poly-cotton w/semi-gloss type can go upto maximum 74 inch Wide print having 11oz, avilable options is Contour with Single Side Printing. Maximum size 6'x 100' with High resolution printing 720 x 720
Fabric & Mesh Banners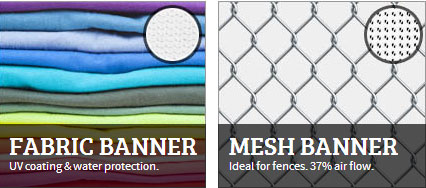 9 oz. Wrinkle Free three layered woven Fabric Banner is 100% Polyester with wrinkle resistant and low light reflective. Maximum size 8'x 100' with High resolution printing 720 x 720. Classic Fabric Blockout Banners: are double layer of acrylic coating with 65% Polyester and 35% Cotton; is privent light reflection. Fabric Banners are Wrinkle Free, durable, scratch resistant & washable. Commonly used for Indoor/outdoor purpose of Banner Display, Table Tops, Photo Backdrops and elegant Pop Display. Maximum size 8'x 150' with High resolution printing 720 x 720. Mesh banners: are 8 oz. can be used for Indoor/outdoor purposes. Don't worry about the Air Flow; it has 37% of Air Flow capability. Single piece maximum size 10' x 145' w/o pocket and 9.5' x 145' w/ pocket with High resolution printing 720 x 72, offering FREE Corner Welding, Plates and Grommets. Rope and Pole Pockets are our low cost services.
Poster Banner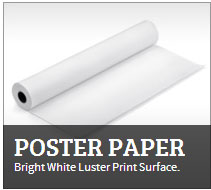 Bright White Satin Utility Paper, are able to print single side. Short time Indoor Purpose only can use and print upto 50 inch width.
Coroplast/Yard Sign 48" X 96"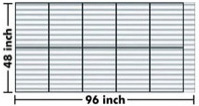 Coroplast / Yardsign with FREE Trim sizes are Durable, Long Lasting and Less Expensive with Single / Double Sided - 4mm (3/16 inch or "almost .25"), 6mm (1/4 inch or .25") and 10mm (3/8 inch or .375")thickness.
Coroplast Step Stakes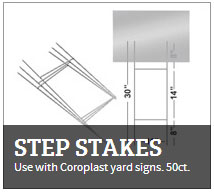 STEP STAKES (Standard / HeavyDuty): Wire Sign Holders / Steel Wire Sign Holders are useful for the small to medium corrugated plastic signs fix on Earth. Suggested standard sign holder is useful for to hold 4mm corrugated Plastic signs (10" x 30" 9 ga. zinc plated finish). It can hold sign panel up to 24" x 18" size. Heavy Duty sign holder is useful for to hold 4mm and 10mm corrugated Plastic signs (10 & 6" x 30" 9 ga. zinc plated finish).
Backdrop Heavy Duty Stand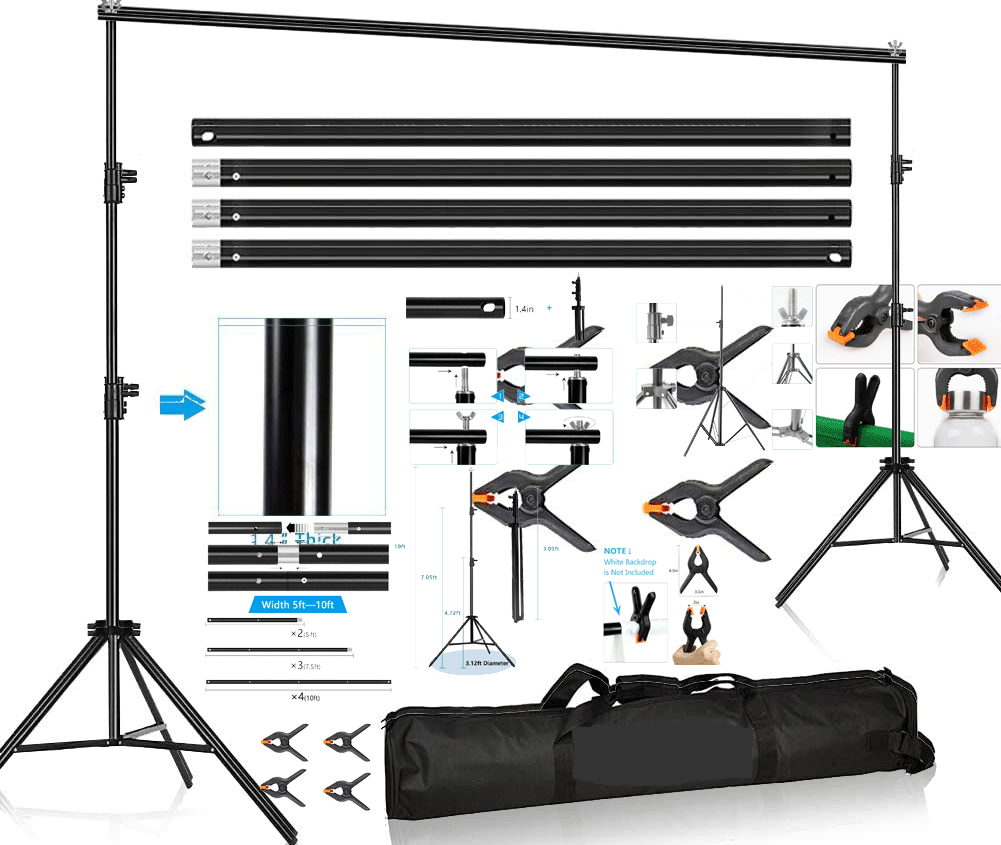 This professional lightweight pipes and support stands is perfect for professional trade display, presentations, photography, family gathering, wedding, baby shower, zoom meeting background, video shooting, live steaming etc. Adjustable heavy duty hardware stand for the banner display come with 4 stronger backdrop clamps & 2 sandbags & a portable carrying bag. The maximum load of the backdrop stand is 11lbs/5kg. 100% original MOUNTDOG brand new, made of 100% aluminum material, stable and no wobbly even though outdoor use. Thicker & high strength high quality metal construction for durability & portability. Resistant to rust and long life, good flexibility with width & height adjustment(4 x Interlocking Adjustable Crossbar x 30" Section crossbars-width can be adjusted from 5 to 12 ft, 2 x Tripods- height can be adjusted from 2.7 to 10ft to meet your different needs).
Foam Board - Foam Core / PVC 4'X 8'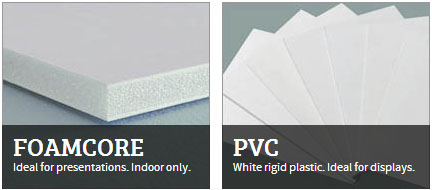 Photo Quality, Durable and Long Lasting Single/Double side printing with thickness are: FOAMCORE 4mm (3/16 inch or "almost .25"), PVC 3mm (3/32 inch or .128") & 6mm (1/4 inch or .25"). These are so helpful for tag pictures and advertisements to the general public. We produce 6 Color impressions with or without Gloss Lamination finish. Out FREE trim size with quanties are 24" x 18" #10; 30" x 18" #8; 24" x 24" #8; 18" x12" #16; 12" x 18" #20; 24" x 32" #6; 36" x 24" #4; 24" x 36" #5; 36" x 18" #5; 44" x 28" #3; 48" x 24" #4; 48" x 48" #2; 48" x 96" #1; 12" x 18" #20 can be used Indoor / Outdoor purpose.
Polystyrene 48" X 96"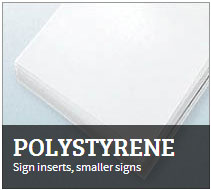 We will print on White semi-rigid plastic, can be used for Indoor/ Outdoor purpose having (1/32 inch or .0312") thickness. Single/Double Side Printing on 4'x 9' sheet amounted $110 / $130. We do imprint on the board with or without Gloss lamination finish. For the discount, order must go more than 10 sheets of WIDTH x HEIGHT 48"x96". We are also offering the FREE Trim of 24" x 18" #10; 30" x 18" #8; 24" x 24" #8; 18" x12" #16; 12" x 18" #20; 24" x 32" #6; 36" x 24" #4; 24" x 36" #5; 36" x 18" #5; 44" x 28" #3; 48" x 24" #4; 48" x 48" #2; 48" x 96" #1; 12" x 18" #20. Upon your request we will do your Artwork/Digital file setup; additional charges will apply.
Adhesive Signs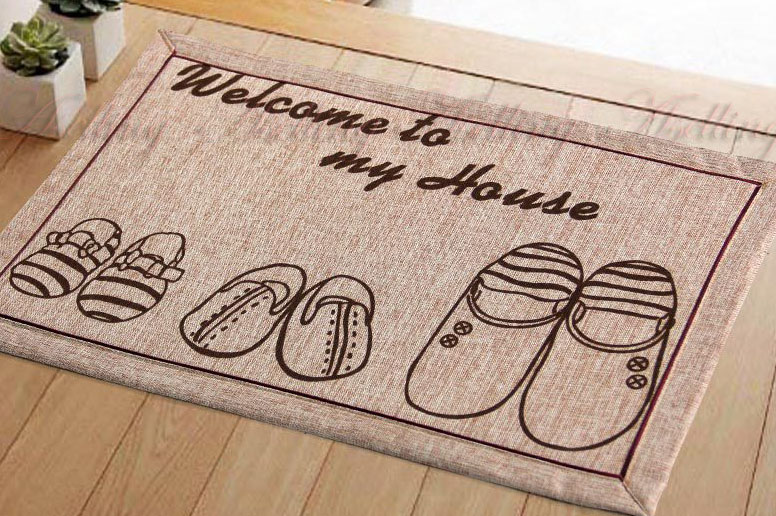 Roll Labels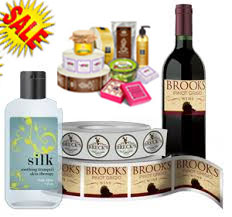 Customize your full-color digital roll labels on a multiple types of materials with various size & shapes (Circle, Rounded Rectangle, Rounded Square, Starburst, Oval).
Stickers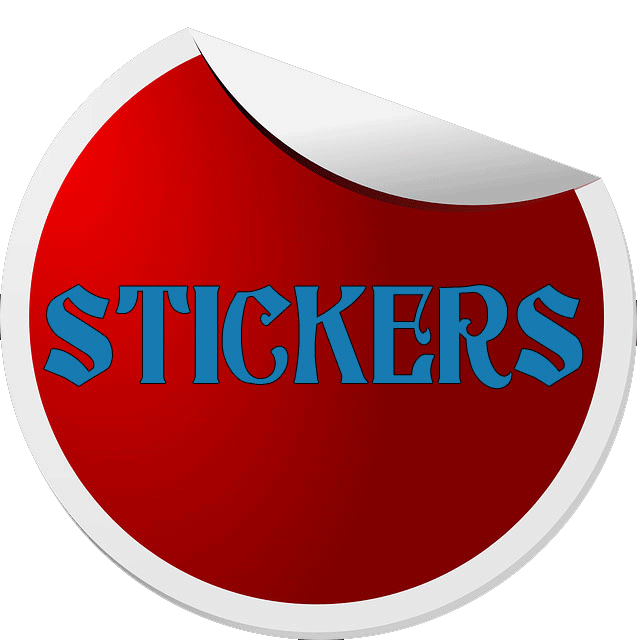 We are offering a High-quality full-color offset and digital on 60 lb. Gloss Coated Crack & Peel Label with UV Lamination; indoor use only.
Window Clings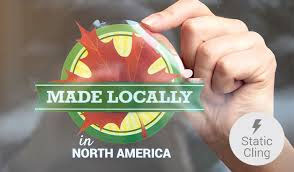 Display advertisements on glass surfaces such as windows; available on full-color digital with one side on 8 mil White Static Cling Vinyl. Ask for various sizes.
Window Decals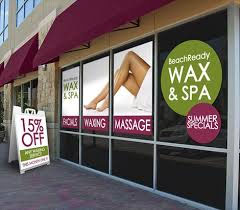 An unused space can use into an effective advertisement. This thick and low-tack adhesive can apply in any cleaned or flat surface and easy to reposition.
Calendars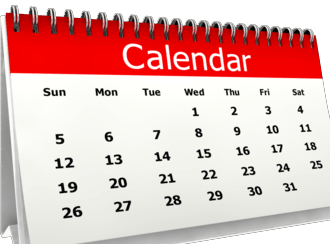 High-quality, full-color offset and digital printing available on multiple paper stocks and in various sizes. Calendars are stitch bound, and can hold 12-32 pages. Hole drilling is also available.
Business Card - TRIFECTA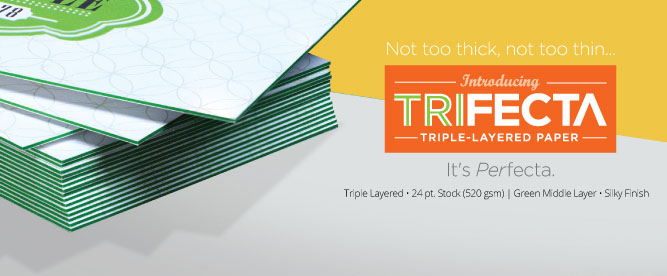 High-quality, full-color offset; available on 24pt has the color options in Green, Red & Black Middle Layer with SILKY FINISH.
Business Cards - Rip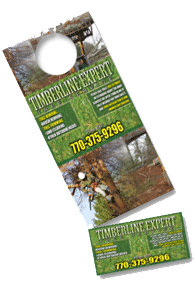 This is a better tool for the customers to pass by your advertisement by providing your contact details on the tear-off portion and ensure you will be remembered. High-quality, full-color offset and digital printing available on multiple premium paper stocks and in various sizes. Several coating options are also available.
Mini / Pocket Brochures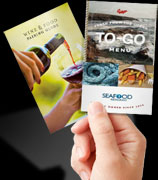 It is a 4 Panel Brochures convenient to carry at anywhere. We will print on 100 lb. Gloss Text with Aqueous Coating under the size of 4" x 10".
A-Frame Signs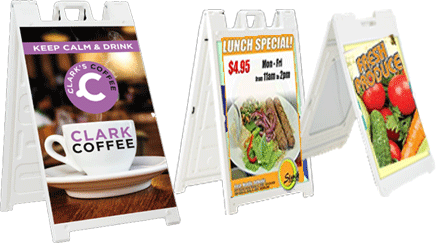 STANDARD A-FRAME White-Heavy-duty plastic A-frame; Adhesive vinyl graphics (36"H x 24" W)$199. DELUXE A-FRAME Heavy-duty plastic sandwich board; Quick change coroplast graphics (36"H x 24"W)$299 "Black Deluxe Color is available". SIMPOSIGN II A-FRAME Lightweight and ideal for portability; Quick change coroplast graphics (28"H x 22"W)$289. Upon your request we will do your ARTWORK; charges will apply.
Special Shapes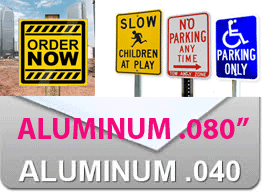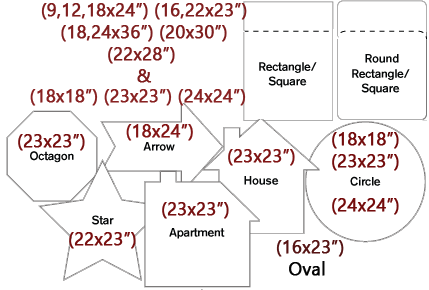 Shapes (Circle, Square, Half Circle, Rounded square / Rectangle, Oval, Leaf, Wink, Circle or half circle etc ) are Durable, Long Lasting and Less Expensive with Single or Double Sided. Available thickness and Materials are Cardboard & Foam Board (1/4 or 3/16 - .25inch / 1/2 or .50 inch), Acrylic (1/4 or .25inch), Coroplast or Corrugated plastic ( 4mm or .16inch / 6mm or .23inch / 10mm or .4inch), Pvc / Aluminum ( 3mm or .11inch / 6mm or .23inch), Car Magnet (22mil or 50mm), Floor Decals (0.25 – 1.00mm).

Michigan's Law on Notarial Acts (MiLONA), P.A. 238 of 2003, as amended, is an act to provide for the qualification, appointment, and regulation of Notary Publics (Notaries) by the Secretary of State. As such, a Notary is a public servant. The MiLONA prescribes powers and duties of state agencies and local officers and provides for remedies and penalties. The MiLONA provides for the protection of citizens against fraud by requiring that a commissioned Notary verify and attest to the signing of documents. The MiLONA further provides for the admissibility of evidence and establishes the recognition of acknowledgments and other notarial acts performed outside of this state.
Notary Public Commission:
A Notary Public commission is a statewide appointment. Although commissioned in a specific county, once commissioned, a Notary may notarize anywhere within the State of Michigan.The MiLONA does not require Notaries to use an embossed seal or rubber stamp on a document. However, the use of a stamp provides for a more consistent and complete notarization.
Oath:
When administering oaths, parties should raise their right hands. The left hand may be used in cases of disability.Following the oath, the signer must answer affirmatively i.e. " I do or Yes".If no other wording is prescribed, a Notary may use the following or similar language for an affidavit or deposition: Do you solemnly swear that the information set forth in this document is accurate and true to the best of your knowledge and belief? Do you solemnly, sincerely and truly declare and affirm that the statements made by you in this document are true and correct?. We are authorized, use this link for to verify https://www.michigan.gov/som.
Live Scan Fingerprinting